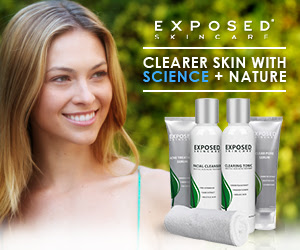 Free Microderm Scrub ($30.95) with a $40 purchase!
The Exposed Microderm Scrub uses micro-sized corundum crystals to polish away dead skin cells, leaving your skin radiant and smooth while improving its overall texture and appearance.
The
Exposed acne treatment
is the first full spectrum system that treats and prevents acne in ways that were previously thought impossible. Most products that you will encounter only offer limited methods of treating acne. Exposed is designed to unclog blocked pores, kill acne causing bacteria and help your skin normalize the levels of sebum production, aid in the healing of skin lesions and reduce redness.
Easy deal idea:
Facial Cleanser 4.0 fl. oz. Price: $15.95
Body Acne Kit Price: $34.95
Microderm Scrub 1.7 fl. oz. Price: $30.95 FREE