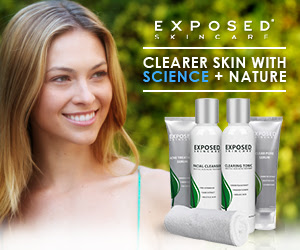 Free Body Wash!
The Exposed Body Wash is a gentle yet exfoliating wash designed to help clear your body of acne. It combines acne fighting medicine with skin purifying natural extracts. It will not over dry your skin. Sulfate and paraben free.
I have just started using this body wash on my back and chest and I love the refreshing scent and how my skin feels after using it. During the winter I really struggle with finding a balance between dry skin and oil skin. So far this product has been great.
I am using this body wash in conjunction with their Acne Treatment Serum and haven't had any new breakouts. Pair this with
Facial Cleanser and a Derm-X cloth
and you get the body wash FREE!